How to Find an Apartment to Rent in Hanoi at Reasonable Price
Updated: 7/11/2017 | 1:26:49 PM
6 tips - How to find a best apartment to rent in Hanoi at Reasonable Price, What should you need to do to save time and money while looking for a home that best suits to you
How to find a best apartment to rent in Hanoi at reasonable price, Hanoi is the capital of Vietnam, where many foreigners come to live and work. Therefore, the rental market for foreigners is also growing. More and more high-end serviced apartments are on the market with utility services that meet the needs of tenants. However, to find a suitable apartment that match your requires at resonable price is not easy. What should you need to do to save time and money while looking for a home that best suits to you?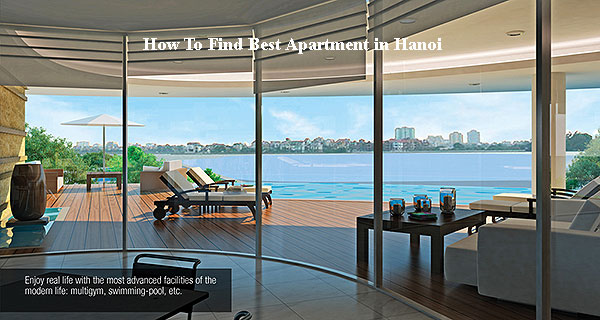 1. Determine your budget

Most people suggests that your monthly rent should not exceed 30% of your monthly income. For examble, if your income is $10,000 every month, you should spend around $2,500 to rent your home. Taking the time to review your personal budget before you start looking for apartments can not only help you figure out your price range, it can also help you identify areas in your personal finances where you can cut back if you want to spend more on a pricier apartment.

2. Find your best home at lower rental costs

There are several things help you in finding an apartment to rent in Hanoi at lower monthly rent:
Look Outside an Urban Area maybe good option. You may wish to living in Hanoi city center seem like a priority, it doesn't mean much if you can't afford the rent. Instead, check out apartments in Urban Area such as Vinhomes Riverside, Times City Park Hill or Ciputra Hanoi etc within a conveniently commutable distance to work and your children going to school.
Consider of all Transportation Costs. Urban areas in Hanoi is not so far from City, it take 20 to 30 minutes to go to the center of Hanoi and generally require a smaller transportation budget, since you can likely take public buses, Taxi, Xe Om or your motorbike to get around. However, you still need to take transportation costs into consideration, whether it's a bus pass or gas money, if you choose to live away from the city center.

Find a Roommate to share your rent. You can find some friends to sharing your home, but you need a landlord's approval before doing so, but having a roommate can significantly reduce the financial pressures of renting. you should make sure that you have a written agreement with your roommate laying out all obligations.
Negotiate. Unless you're special apartment hunting in a popular area with few similar apartment and little renter turnaround, many landlords are amenable to negotiating and price is reduct depend on your payment condition, VAT Tax, long or short term rent. Check out and make a comparation the rates of similar apartments with same amenities in the area and bring your research with you to get a better deal. You can also offer to pay rent for a longer chunk at a time (a landlord may lower the rate if you pay six or 12 months at a time) or choose to sign a longer lease to score a better deal overall.

3. Start Hunting
To save you times and money in finding a potential properties, you should work with real estate agents (in Vietnam you do not have to pay commision to agent, the landlord will pay a commintion to them if the lease is signed). There are many real estate agents in Hanoi special focus on expat clients, it is esea to seach in internet. you are free to work with as many different agents as you like. The landlord can also work with all agents as well. It mean that any agent can work with the same house. Hanoi Real Estate are special focus on expat and has been helping expatriates find their home in Hanoi since 2002, we committed to finding exactly what you are looking for to feed your budgets by select suitable property listings for you to have look online before visit.

You should start hunting from a month before you will have to moved. In Vietnam, current tenants must tell the landlord to terminate the lease at least 30 days, so you should look for a month in advance to have more time to make a decision. However, good price house can be rented very quickly, so you will need to make the decision as quickly as possible to pay deposit and keep the house.

Rental Price. To avoid looking at apartments over access your budget. Landlords are unlikely to discount the rent, and you could end up either overspending or being disappointed when you can't afford the apartment of your dreams. Instead, set a firm number and only look for places that fall within your budget.
Transportation. If you're currently without a car, check every potential apartment's proximity to public transportation. An apartment may be well-priced and in a great neighborhood, but if you have to spend most of your time walking or calling taxis, it might not be so attractive.
What's more, you need to factor the cost of transportation into your budget for a realistic picture of how much an apartment really costs.
Convenience. Choosing an apartment that is conveniently located can make your life a lot easier. Look for a place that's close to work, shopping, transportation, and amenities such as laundry.
Safety. Not only should an apartment be in a safe neighborhood, landlords should make an effort to ensure their tenants feel safe inside. Proper locks on each door, private entrances, and security should all make you feel better about renting.

4. Rental and Deposit Payment

Many landlords require a down payment, which usually includes the first 3 month's rent and a deposit equalivant to one month rent

5. Do a Walk-Through and check all apartment before sign the lease
You should check everything out and you're happy with the apartment, location, and landlord before you sign the lease. You should do a final walk-through before signing on the dotted line. Because previous tenants may have caused damage or maintenance issues, you need to be sure that you won't be responsible for any issues that weren't your fault.

Come prepared and check for the following:
Turn on lights and faucets, and flush toilets throughout the apartment to make sure they all function properly.
Check for rodent or insect infestation, particularly in cupboards and storage spaces. Chew marks or droppings are a major red flag.
Bring along a cell phone charger and plug it into the outlets to make sure they all work.
Check smoke alarms and look for fire safety equipment, such as an extinguisher in the kitchen.
Open and close and lock and unlock doors and windows.
Turn on all included appliances to make sure they're working.
Examine floors and walls for any type of damage. Carpet, hardwood, linoleum, drywall, and tiles should all be inspected.
Take pictures of any problem areas with a digital camera and show them to the landlord. Save the file so if there are any discrepancies with maintenance or problems getting your security deposit back when you move, you have evidence to prove you didn't cause the damage.

6. Read Over and Sign the Lease Contract
Agent will send you a draft lease contract. Lease agreements vary depending on time frame and contract terms.

Periodic Leases Work Best for Shorter Durations. With a periodic lease, the landlord acknowledges that your situation could change from month to month and not agree to rent it, It is allowing you to pay and renew your lease monthly. However, these rent can be more expensive than longer term contract, and because you have to renew each month, the landlord reserves the right to raise the rent at any time. You need to give your landlord at lest 30 days notice before vacating the apartment, so this arrangement is best only if you truly need short-term living space.
A Fixed-Term Lease Is Most Common. Contract with your landlord to stay in the apartment for a specific period of time - six months, a year, even two years. In many cases, if you choose to move out, you're still responsible to pay for the time left on your lease, whether you live in the apartment or not. This can mean locking in a lower rate, though, which is ideal for longer-term living situations. Occasionally, landlords let renters out of their lease if a penalty is paid, so be sure to discuss contingencies before you sign.
Living in top-rate luxury serviced apartment in Hanoi would be other option for you if you need a high quality furnished, services and You will be served as a five star hotel.
Other News