Hanoi's Best 10 Urban Areas For expats 2017
Updated: 26/4/2017 | 2:01:01 PM
Best Green urban areas for Expat living in Hanoi such as Ciputra Hanoi (Nam Thang Long Urban Area), Starlake Hanoi - Tay Ho Tay Urban Area, The Manor, Times City, Royal City, some other apartment buildings prime location in the capital is also an ideal choice for expats
Best 10 Urban Areas For expats Living in Hanoi
Hanoi has many modern and green urban areas such as Ciputra Hanoi (Nam Thang Long Urban Area), Starlake Hanoi - Tay Ho Tay Urban Area, The Manor, Times City, Royal City, some other apartment buildings prime location in the capital is also an ideal choice for expats.
1. Ecopark Green City is one of the largest urban projects in the North, is a green urban of Vietnam and other countries in the region, the total area of 500 hectares, located in the southeast of Hanoi is adjacent to Bat Trang pottery village, 12.8 km from the center of the capital. Convenient connection with Thanh Tri Bridge, Ring Road 3, Vinh Tuy Bridge, Chuong Duong Bridge, Road 5B. Ecopark creates a harmonious living environment between nature and people. It is classified as "the greenest city in the North", a giant green lung in the southeast of the capital. It is one of many urban areas selected by many People. It is not very close to Hanoi City center, so Ecopark Green City is great resident for whom working in the North of Hanoi.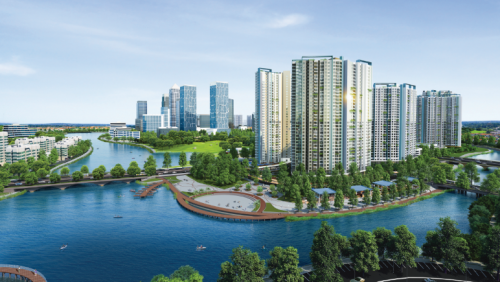 2. Vinhomes Riverside (Long Bien District) is designed and built following the model of Venice. The project is located at the gateway northeast of Hanoi, 6.5 km from Hoan Kiem lake, 5.5 km from Chuong Duong bridge, close to Vinh Tuy bridge. Vinhomes Riverside has large ecological space, Vinhomes Riverside's exclusive New Classical architecture is carefully tucked into every detail to create a high standard of living. Maintaining a system of trees and landscapes in Vinhomes Riverside is also invested and researched particularly meticulously. In 70.5 hectares of green space of the project, there are nearly 100 species of rare shady trees and 83 species of scrub are carefully selected to create rich vegetation and rich natural space for residents.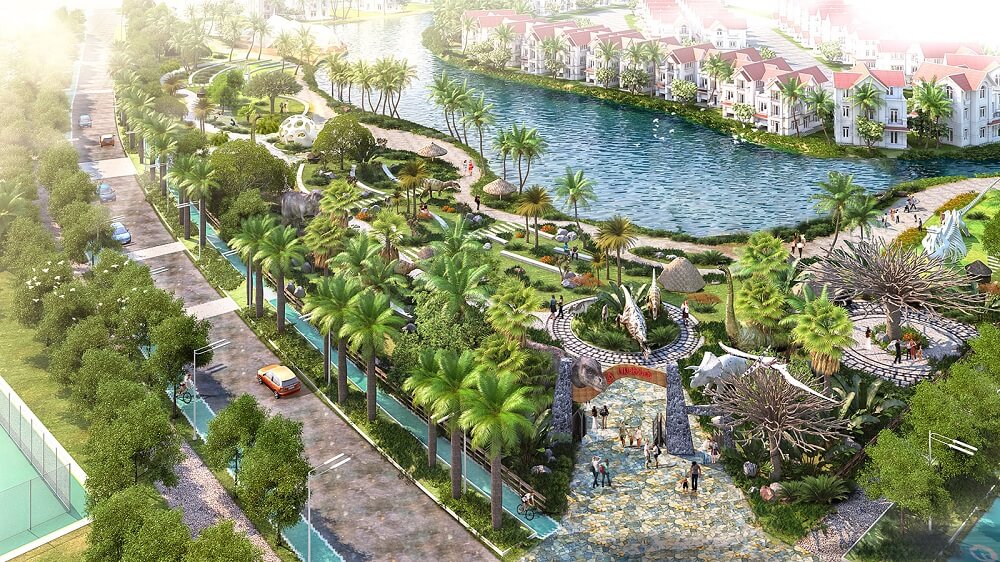 3. Ciputra Hanoi: Nam Thang Long Ciputra urban area is a large complex, including many apartment building and Villas in Xuan Dinh, Dong Ngac (Bac Tu Liem district) and Phu Thuong and Xuan La wards ( West Lake District).
With a total area of 323 hectares, this urban area is conveniently located, only 8.4 km from the center and 21.5 km from Noi Bai International Airport, adjacent to Thang Long - Noi Bai and The south of the Red River, which is conveniently accessible to all other areas of Hanoi.
Built and operated in accordance with international standards, Ciputra is known as a metropolis that can fully meet the high standards of living.
Ciputra Hanoi has emerged as a high-end urban area where high-ranking intellectuals, high-end rental apartments of Hanoi Ciputra have been creating heat for real estate investors in recent times. Owning a convenient location to Noi Bai International Airport as well as moving into the CBD, Ciputra Hanoi with various ecosystems from lakes, swimming pools, greenery, bushwalk, flower gardens, Green campus is the attraction of foreign customers because fresh environment is always a top concern for them.
Besides, Ciputra Hanoi is also attracted by the international standard education system with the school system such as Hanoi Noi Academy, UNIS UNIVERSITY, Singapore International School, Kingder World, SunShine House ... Can meet the high requirements of knowledge, skills and culture to foreigners peace of mind for children to study here.
With living space completely private, far away from noise, Ciputra is attracting large number of foreigners, Koreans, Japanese ... short-term and long-term rent. According to statistics, at present Ciputra Hanoi has up to 32% foreign residents from 88 countries in the world, turning this place into an urban area worth living in the Capital.
4. Starlake Hanoi - Tay Ho Tay urban area A well-planned project of housing, work, study, shopping and entertainment, is located in the new political and administrative center. Hanoi, Starlake Hanoi is not only a place to bring a new life style but also a channel investment "terrible words" on the real estate market.
Located on the rest of gold in city of Hanoi, Starlake gives you the opportunity to experience and enjoy the benefits of a super-high-end metropolis in the heart of Hanoi. Where the government chooses to set up offices of ministries, diplomatic corps and national cultural works, Starlake becomes the new administrative center of Hanoi. Starlake promises to be the destination of reputable investors, strategic business partners.
Starlake Hanoi is a large-scale project, before the overall planning change is 207 hectares. The project spends about 26 hectares for green space. Especially, the center axis of the project will link the West Lake, the project regulating lake, Hoa Binh park lake, Huu Nghi park forming a huge lung for the whole area. Northwest of Hanoi. In addition to Starlake Hanoi eco-urban area West Lake West also brings to customers a "ONE STOP OF LIFE" urban area - can provide all services, utilities, meet all needs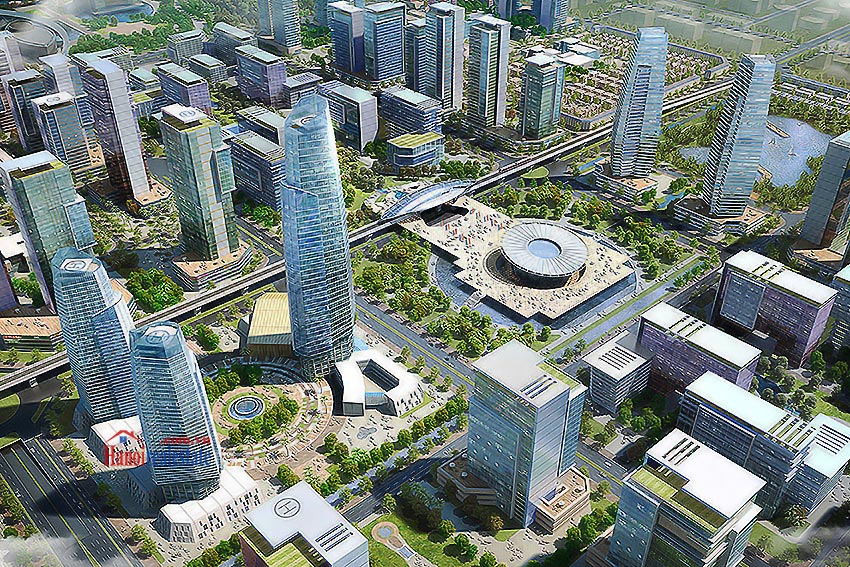 5. Mandarin Garden is located between the urban area of southeastern Tran Duy Hung and Trung Hoa Nhan Chinh - Hanoi's vibrant area. The project covers an area of 25,886 m2, located on the land of gold in Hoang Minh Giam Street.
Located in a prime location south of Hanoi, adjacent to 2.5 ring road with 40m section, adjacent to important transportation routes such as Kim Dong, Giai Phong, residents of Mandarin Garden 2 conveniently moves into the city center and easily connects traffic to the western and southern regions of the capital.
The project has a total of 640 apartments with 2 basements. The apartments ranging in size from 67 - 130 m2 are arranged in 2 - 3 bedrooms. The apartment is designed functional rooms suitable for many open spaces, windows to enjoy nive view, the natural light and good air circulation. Designed with 8 apartments / floor, with 4 high speed 2.5m / s speed travel convenient and fast. The apartment corridors are elegantly designed airy. At Mandarin Garden, residents will have a full range of high-end amenities including a 2-car garage, commercial area, children's play area, living space for the elderly, plus library. Brass, outdoor pool.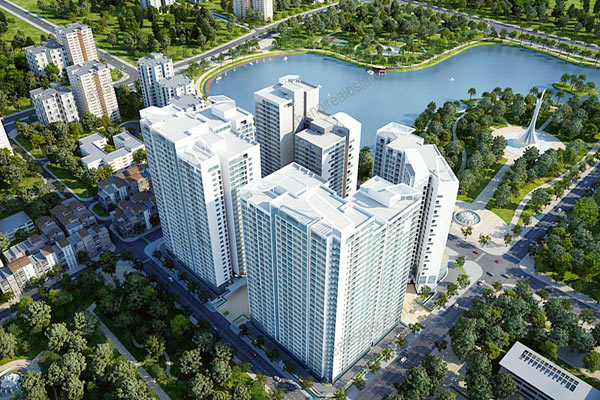 6. Royal City Hanoi: Located on Nguyen Trai street (Dong Da district), more than 5 km from Hoan Kiem lake, Royal City multi-functional urban area has many amenities such as high-end apartments, commercial centers, entertainment, beauty care, food. The total area of the site is 120,945 square meters, designed with the connection between functional complexes and large mixed public works. This place will be the highlight of Hanoi's new architecture and a "miniature European city", satisfying the desires not only of
its residents but also meet the needs of work, Recreation, study, stay ... of the capital as well as tourists, in a completely new style and class.
7. Times City – Park Hill Premium: It is 4 km from the Times City apartment complex (458 Minh Khai, Hai Ba Trung district) to Hoan Kiem Lake, located in the southeast of the capital. Times City is built on a total of 364,500 m2 with 23 high-class apartment Building, commercial centers, entertainment areas, dining areas, the largest aquarium in Ha Pot...
8. Vinhomes Gardenia: On an area of 17.6 ha in the My Dinh New Urban Area, Vinhomes Gardenia is the first complex developed by Vingroup in the west of Hanoi.
Green and balanced living has become a trend around the world and in Vietnam. "With Vinhomes Gardenia we hope to become the pioneer in giving residents a new lifestyle with health and balance from the design, planning, aesthetics, residential community, and harmonized facilities," said Ms. Luu Thi Anh Xuan, General Director of Vinhomes 2.
Vinhomes Gardenia is divided into two subdivisions - The Arcadia and The Botanica.The Arcadia comprises three high-rise residential buildings with apartments ranging from 54 sq m to 146.8 sq m with one, two or three bedrooms. It also includes other facilities such as tennis courts, a children's playground, and a BBQ garden, arranged around a 50-meter swimming pool. The Botanica, meanwhile, comprises adjacent villas, shophouses, and duplex villas that lie along the main landscape, between facilities such as a flower hill, a children's playground, bike lanes, tennis courts, and a jogging track. Villas range from 277 to 382 sq m and are separated by fences and green landscapes.
Vinhomes Gardenia is designed based on the principles of green, health and balance, with a unique garden concept designed by Singapore's CPG and Canada's West Green Design.
The project is expected to link with upcoming modern infrastructure, an administrative center, and a commercial area in the area.
9. D'Capitale Trần Duy Hưng
Located in one of the most beautiful and bustling road of Hanoi, Vinhomes D'Capitale, is a leading residential, office and commercial project that inherited from the success of Royal City and Times City. D' Capitale is a convergence of natural landscape, contemporary architect and internationally standardized infrastructure system, bringing the desirable living quality to the residents.
Hanoi D'. Capitale implement the idea of a vibrant urban area with modern apartment complexes located inside the green park in which utility infrastructure system is perfect and synchronized. What Tan Hoang Minh look toward is a dynamic and flexible life, a beautiful green oasis in the heart of the capital. Customers can enjoy a modern "Green Architecture" apartment for sales D'. Capitale. Housing system and lots of modern utilities interspersed with green landscape, in order to create an environmentally friendly life space. 6 apartment towers are meticulously designed with premium materials, open spaces. Owning an apartment in D'. Capitale, residents will enjoy a vibrant life with the top living standards in Vietnam.
10. European Overseas Vietnamese Village is a modern "village" in the complex of commercial office buildings, hotels, banks and green belt of Nhue River. The project consists of separate, duplex, adjoining villas with European style, located in Mo Lao new urban area, Ha Dong district, next to the axis of Nguyen Trai street, Le Van Luong street.
Other News