Living in Vinhomes Riverside, How is residents protected?
Updated: 3/11/2017 | 12:29:07 PM
Living in Vinhomes Riverside, multi-tiered security system has become the brand and pride not only of the owner but also of each resident living there.
Entering the Vinhome Riverside villa, guests will have to cross the security door and inform the owner. When confirmed by the owner, you are invited to go through the guard. This is the first security layer at Vinhomes Riverside.

Well known is a very save urban area with best security system. Vinhomes Riverside includes 4 layers of security with professional security staff and modern equipment. The security of the inhabitants is always at the forefront, because It is the convergence of the diplomat resident, who are famous, successful, and rich.
When all the criteria of life have been satisfied, you need more than ever is being safety all the time, everywhere. And Vinhomes Riverside always assures their residents at top quality security. This is also the premise when developing a new subdivision called Vinhomes Riverside Hanoi
Vinhomes Riverside - Secure multi-layer security system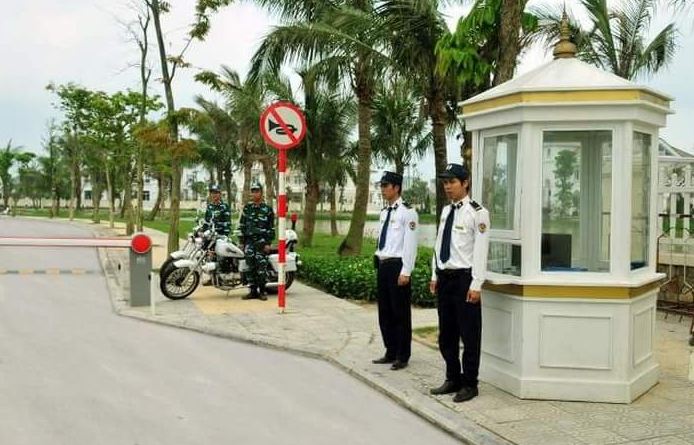 First security layer: The whole city will build security house at key points from the outer layer to the inner layer. The security at Vinhomes Riverside operates 24/7 to control al the roads leading into the urban area. At the entrance and exit latches of the common area and the private area of the villa subdivision there will be a fixed security team at all times.
Second security layer: The security patrol is equipped weapons, dogs and theay are always inspecting all roads to ensure absolute safety for residents. When any abnormality occurs, the patrol will immediately report to the command center via radio.

Third security layer: A dense public camera system is installed on all roads. Image security officers will be on duty 24/7 to observe and coordinate with mobile security patrols to handle interventions if needed.

4th security layer: Each villa in Vinhomes Riverside is equipped with an alarm system at any location required by the owner. If there are problems, the villa owner just press the alarm, within 1 to 5 minutes the security team will be present timely to handle.

In the security situation in Hanoi more and more complex developments, Vinhomes Riverside seems isolated and peaceful to strange. At present, residents are extremely satisfied with the quality of security and the enthusiastic support of the professional security team.
With Vinhomes Riverside, multi-tiered security system has become the brand and pride not only of the owner but also of each resident. Living here, residents really feel about a peaceful, safe life, deserving the most desirable living in Vietnam.
Other News